Sponsors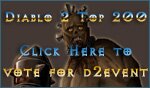 Diablo 2 Info

ALL
Network

d2event Network

 Guild Wars


 Lineage 2


 Matrix Online


 World Of Warcraft


 Star Wars Galaxies


 EverQuest 2


 EverQuest


 Final Fantasy XI


 City Of Heroes


 Anarchy Online


 Vanguard - SOH


 D & D Online


 Mu Online


 Ragnarok Online


 Ultima Online


 Tibia


 Rune Scape


 Eve Online


 RF Online


 Maple Story


 OGame


 Diablo and Hellfire


Lineage 2

 Lineage 2 Directory


 Lineage 3


Diablo 2 Newsletter
Get informed about new dupe methods...

Need traffic to your Diablo 2 website?
Join our top list, Diablo II Shops, Clans, Sites are welcome!



Ads
Vote for Us

Content




Diablo 2 v1.12a patch
| Download |  v1.12a |  v1.11b |  v1.11 |  v1.10 |  v1.09D PC |  v1.09D Macintosh |
| v1.09C |  v1.09B |  v1.09 |  v1.08 |  v1.07 |  v1.06B |
 | v1.06 |  v1.05B |  v1.05 |  v1.04C |  v1.04B |  v1.04 |
v1.03C Macintosh |  v1.03B Macintosh |  v1.03 |  v1.02 |  v1.01 |


Diablo II v1.12a patch
Changes in version 1.12a

Downloadable Installer Support
- If all required Diablo 2 '.MPQ' files are installed on the hard drive, the game will no longer require the CD to play.

For users that originally performed a 'Full Installation' and wish to run without the CD, all '.MPQ' files should be copied from the Diablo 2 CDs to the Diablo 2 directory. Most users will only need to copy D2Music.mpq from the Diablo 2 Play CD and/or D2xMusic.mpq from the Lord of Destruction CD. Mac users will need to copy these music files and rename them to 'Diablo II Music' and 'Diablo II Expansion Music' respectively.

Anyone who did not perform a 'Full Installation' will need to re-install from CD again to ultimately play without the CD. In this case, a 'Full Installation' is required, followed by file copy step noted above.

Bug Fixes

- Fixed an incompatibility between Rosetta and OpenGL mode on Intel Mac.




Buy Diablo 2 Cd Keys, FRESH from BOX!



Diablo 2 Newsletter
Questions, ideas, problems, wishes?
Be informed whenever something new comes up
(or any important problems are fixed.).
You can unsubscribe from this newsletter at any time.
| [1] | 2 |
dERKan
20 Jan 2009, 05:07
yep
WE
14 Jan 2009, 19:31
EEEE
ed
09 Jan 2009, 23:57
jsklj
skyruner
15 Dec 2008, 12:35
thanks you
rtrt
13 Dec 2008, 05:56
rtrt
faiq
01 Dec 2008, 14:30
thankss
hak
29 Nov 2008, 18:35
gfgfgf
TaShko
11 Nov 2008, 17:23
The game and site is purfact.
james
11 Oct 2008, 13:38
ello
hi
09 Oct 2008, 17:52
thx
Javier Hector Ponce Caillaux
28 Sep 2008, 14:40
pp
28 Sep 2008, 14:38
Thnaks
elad
23 Sep 2008, 18:33
kepuw